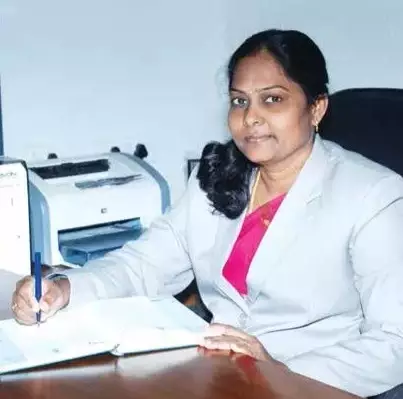 Dr. A. Valarmathi
Director
Dr. A. Valarmathi MBA, M.Phil, PGDCA, Ph.D.,FDP(IIM-I)
Director
Dr. A. Valarmathi started her career in an export oriented company and subsequently entered teaching. She obtained her Doctoral degree from Mother Teresa Women's University, Kodaikanal. and M.Phil. from Madurai Kamaraj University.She has 20 Years of experience in teaching and industry and has 15 Years of research experience. She has guided 11 M.Phil scholars and is presently guiding 4 Ph.D. scholars in the area of Marketing and Finance in various Universities. She has organized and attended many FDP programs. She has presented and published research articles in 15 International and National conferences and 26 publications in refereed Journals. She is also a reviewer for Inderscience Publishers Journal, International Journal of Internet Marketing and Advertising and Southern Management Association Journal. She underwent the Faculty Development Programme at Indian Institute of Management Indore during April16 and May22, 2018 and Indian Institute of Management Kozhikode during November17-21, 2014 . She is an active member of the Coimbatore Management Association. She has received the CMA-GRD best MANAGEMENT FACULTY AWARD in 2012. Her areas of interests are Consumer behavior, Advertisement and Sales management, financial management, Accounting for Management and Entrepreneurship. She is the proud alumnus of Indian Institute of Management, Indore.
Publications
Books
• Information Management, Himalaya Publicizing House, 2018, ISBN: 978-93-5273-962-2
• Written Communication , Thakur publishers, Chennai, 2013, ISBN : 978-93-82249-23-8
• Accounting For Management , VDM publisher, Germany
• Impact Of Advertisement On Jewel Purchase Decisions ,LAP Lambert Academic Publishing ( 2012-08-09 )                              ISBN: 978-3-659-18383-6
Edited Books
1. Management and corporate research compendium, LAP Lambert Academic Publishing , ISBN:978-330-35269-8
2. International conference on Contemporary management practices, ISBN:978-1-943844-53-1
National& International
• Study on the Relationship between Emotional Intelligence and Job Satisfaction among IT Millennial Employees with          Reference To Bangalore, International Journal of Business and Management Invention (IJBMI) ISSN (Online): 2319 –              8028, Volume 8 Issue 10 Series. II Oct 2019 PP 28-32 (UGC Approved Journal)
• Effects of mass media advertisement on gold purchase decision International Journal Of Scientific Research                     Volume – 8 | Issue-4 | April-2019 | PRINT ISSN No 2277 – 8179, DOI: 10.15373/22778179
• A Research on Commercial Customers Preferences and Behavior of Milk (Brands) in Coimbatore, Asian Journal of            Research in Social Sciences and Humanities Vol. 8, No. 4, April 2018, pp. 28-38. ISSN 2249-7315 A Journal Indexed                    in Indian Citation Index DOI NUMBER: 10.5958/2249-7315.2018.00066.7 UGC APPROVED JOURNAL SJIF IMPACT                                FACTOR :5.997(2017) 28
• A Study on Customer Perception on Online Purchase and Digital Marketing in Coimbatore, International Journal of            Latest Engineering and Management Research (IJLEMR) ISSN: 2455-4847 Volume 02 – Issue 10 October 2017 PP. 57-61
• A Case On Vodafone – Idea Merger, Vichaara an International Journal of Management, Volume 3, Number 2, April 2017,     ISSN : 2347 4726 , 2017
• A Study on the Technical Analysis of NSE Towards it Stocks with Reference to Indian Stock Market, International Journal    of Advances in Management and Economics, (ISSN: 2278-3369)Vol:5, Issue:4, July-August 2016
• Factors Influencing The Students Buying Behavior of Two Wheelers In Tirupur District, International Journal of Emerging    Research in Management and Technology-Impact Factor: 1.492],[Science Central Evaluation Score: 9.28 October 2015      Volume 4, Issue 10, and October-2015)
• A Study On Effectiveness Of Hr Practices And Policies On Job Satisfaction With Reference To Textile Industries In Tamil      Nadu, India, International Journal in Management and Social Science, ISSN: 2321-1784 (Impact Factor- 4.358) Vol.03             Issue-11 (November, 2015)
• Impact of Advertisement and sales promotion of Hero bikes with special reference to Tirupur district , Research                  Journal of Social Science & Management – RJSSM (ISSN 2251-1571) Vol:05, No:05 (Impact Factor for Year 2014 = 5.38)              August 2015
• TIME MANAGEMENT- Increase your personal productivity and Effectiveness, Vichaara an international Journal of                 Management, Vol .1 Issue.2 Sep 2014
• A study on improving work force diversity and hr practices By innovative human resource strategies in software                Industries in India, International Journal of Human Resource Management and Research (IJHRMR) ,ISSN(P): 2249-6874;      ISSN(E): 2249-7986 Vol. 3, Issue 5, Dec 2013, 43-50 Impact factor: 4.6794
• Role of HR strategies for Improving Organizational Performance in the banking sector in India, Journal of International    Academic Research for Multidisciplinary, ISSN: 2320-5083, volume 1, issue 10 November 2013, impact factor 1.393,
• Impact of Advertisement on Jewel Purchase Decisions : A Study in Coimbatore Dt, Vichaara an international Journal        of Management, Vol .1 Issue.1 Oct 2013
• Management of Management Department- A Road to Excellence, Indian Journal of Applied Research Vol :3,Issue:7   July 2013
• Impact on Nuances of Buyer Behavior while Buying a Gift, International Journal of Consumerism, ISSN No. 2250-1010,  Vol 1, Issue 4, June 2013
• Quality of Work Life: A Study Among Nurses in Coimbatore (February 2013), Global research analysis.
• A Study On Quality Of Work Life In Textile Sector In And Around Coimbatore District((February 2013), Blue Ocean Research Journals
• Impact of advertisement on jewel purchase decisions,(March-May 2012) International Journal of Management Focus
• A study on consumers behaviour in selecting credit cards in Coimbatore city, (March 2011) International Journal on  Commerce and Management
• An impact of Metamorphosis of Modern Management in Outdoor advertising (Jan-June 2011)
• Advertising and jewel purchase decision: Special reference to Coimbatore district, (September- November 2010)           
Journal on Management, DOI: https://doi.org/10.26634/jmgt.5.2.1303